Monthly Archives:
October 2016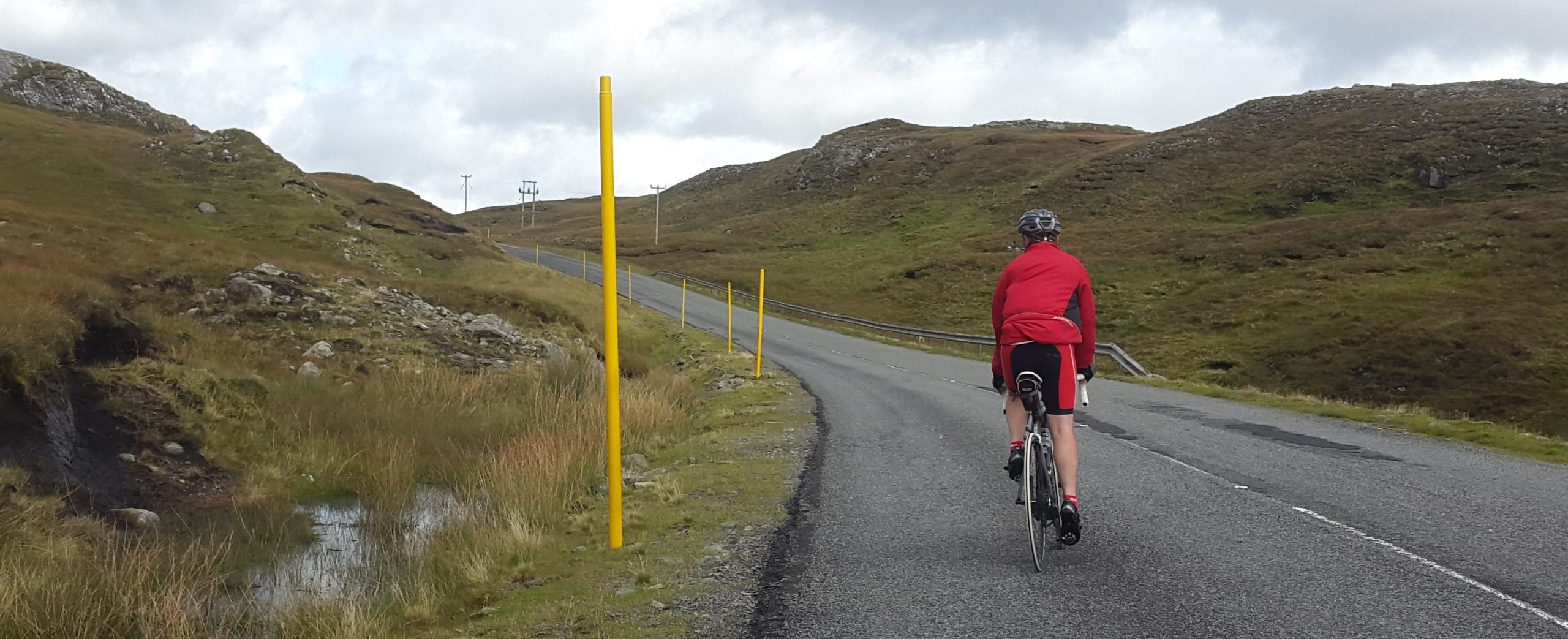 By the time I stopped and it had dawned on me that I had probably gone too far and didn't really know where I was, I was soaked to the skin and really starting to get cold. The rain had been coming down quite heavily but I hadn't really realized it, I was just enjoying my cycle.
I came off the road into the car park of what looked like quite a modern building that had been built in slate to perhaps emulate the stonework of long ago. I sheltered in the porch where I noticed the sign on the wall saying Church of Scotland. I thought I had found real refuge but the doors were locked. I took out my mobile telephone to call to see where my support driver had got to only to find I had no signal. In between sheltering in the doorway, I kept running round the outside of the building to try and get a signal. Eventually I got through but wasn't able to tell Eileen where I was before we got cut off again because, in fact, I didn't know where I was.
I think I was there for about 45 minutes, long enough anyway to get very cold and very wet. While I was standing in the doorway taking shelter, I was very concious that I was being watched by a family in the house opposite who kept peering out the window to see if I was still there. I was trying to make myself look cold by blowing into my hands and wrapping my arms around my shoulders and, in my head, had a fantasy that they might come and place hot coffee in my hands. This was time to meet my good Samaritan. A fantasy it turned out to be however, but as soon as the car arrived I got warmed up with some chocolate and a hot drink.
We spent the night in a B&B just beside the village of Bayhead on North Uist. There was nowhere nearby to eat and the landlady was so kind to us. We bought some delights at the local Co-op and Morag, the owner of the B&B, let us have the run of dining room and sitting room to enjoy our meal and relax. We were both getting tired by this time so having a few hours to chill was great. We had a lovely nights stay there so I feel I have to put a big recommendation here for Morag's B&B, Bayhead, North Uist.
Next morning I dreaded going out in the rain again but once I got underway and got into a groove, as they say, and the miles soon passed. The weather wasn't good but I still loved the scenery. Along the north coast every so often the road would go quite near the beach and I would get another wonderful view of the stunning beaches there. I crossed yet another causeway, which turned out to be my last, onto Berneray where we got the Ferry to Leverburgh on Harris. Unfortunately I didn't see too much of Berneray other than the ferry terminal where we boarded.
The ferry crossing took about an hour and the rain didn't' seem to be letting up. Our plan was to spend the night in Tarbert about 20 miles from Leverburgh. When we boarded the ferry at Berneray I got myself dried off and warmed up so was dreading going back out in the rain again to push another 20 miles. Fortunately the rain had eased very slightly and lulled me into thinking that it had stopped. I got underway and only a short few miles further on is started to rain again. I was out there now I thought and may as well carry on to make Tarbert that night.
Funnily enough, this particular leg of the journey turned out to be my favorite bit of cycling of the whole week. By the time I got into the Mountains of Harris, there was just a very soft gentle rain, not a breath of wind, and not remotely cold. It just made for a wonderful atmosphere and feeling for going over the hills. I hardly passed another vehicle and felt like I had the island to myself. I had a ball that afternoon despite all my reservations about going back out in the rain. By the time I reached Tarbert I was soaked to skin but I couldn't have cared less. I was so happy and felt so fulfilled that I was doing it and had such a good time, nothing seemed to matter.
We had difficulty finding accommodation in Tarbert that night. We had gone round several hotels and B&Bs but there seemed to be no room at the Inn. We ordered take away pizza in a local hotel called Hotel Hebrides down at the harbour and, as we were waiting, explained to the manager that we can't find a bed. Her name was Emily and could not have been more helpful. Emily let us sit in the bar and eat out take away pizza there, while she phoned around to try and find us a bed. AS time went on we became more and more worried that we would have ot sleep in the car. We had sleeping bags with us so it was an option but we were trying our best to avoids having to do that. As it it got later we really thought we might have to do that. Fortunately at 9.30 pm, we found a guest house with space for us. We were so grateful to Emily and the effort she put in to find us a bed for the night. We have a very comfortable night at Flora's Guest house and all was well.