Monthly Archives:
September 2016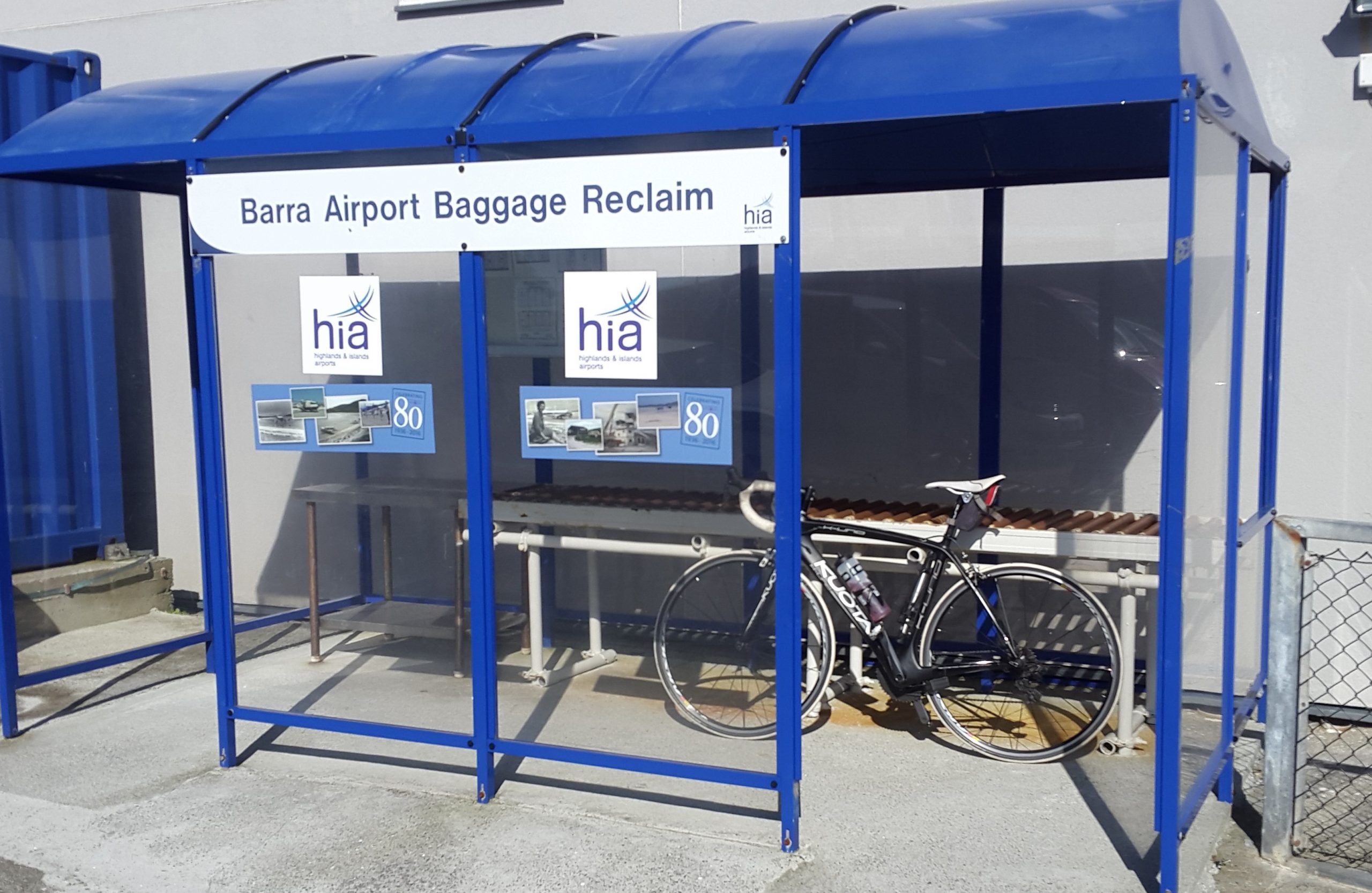 We had a comfortable enough sleep in the Dunard hostel that night although I was so shattered after the journey to get there I would have slept anywhere. The beds were a bit rickety and the mattress really soft so not recommended for a prolonged stay. The décor in the front room was a kind of terracotta and blue in the style of a pseudo Mediterranean theme. The hostel itself was inexpensive, functional and did the trick. My only regret was that the staff were not very cheerful and I did not manage to get a smile or a welcome word out of them!
When it comes to accessibility, it is not suitable for disabled people. The hostel reminded me of an old fisherman's house with a steep set of well worn concrete steps leading up to the front. There was no hand rail and I could not even carry my own bag up the steps!
The first task of the day was to cycle down to the island of Vatersay where The Obelisk marks the start of the Hebridean Cycle Way. It was a little further away than I thought and involved two hills round a couple of bays. As soon as I left Castlebay there was really quite a steep climb which gave me a bit of a fright! I'm not sure what I was expecting but I had in my mind gentle rolling hills for the first few days and I wasn't even out of Castlebay. This gave my lungs a sharp wake up. For a minute or two I wondered if I was really up for this adventure as it was a really steep hill!
My first brief stop to admire the first of two war memorials I would see on my short run done to Vatersay. Perched on the top of the hill looking over castle bay was a three sided monument at a beautiful sculpted angels on the top of each corner, the sides bearing the names of the people who fell in the war. Four flag poles stood behind and a few wind battered wreaths lay strewn at the bottom. I loved the contemporary feel of which shows that the memories of the world wars and thankfully not fading, and that remembrance is still part of out psyche today.  Further round towards Vatersay, was another memorial beside the wing of a war plane that have come down. Unfortunately I didn't stop at this one but would be well worth it I imagine.
When I got to the start of the Hebridean Way, I had in my mind a great big monument towering into the sky and partially blocking out the sunlight. To my surprise there stood a gate behind which was a footpath leading to the starting post. A post it was, certainly no bigger that and from the road I had to strain my eyes to see it. I didn't want to walk up the hill to it and leave the bike by the road, nor did I want to risk cycling over to it and risk a puncture twenty minutes into my adventure, so I stood with my back it and had my photograph taken. Now people can see the photograph and play spot the Obelisk in the background as it really is quite a challenge.
As soon as I left Vatersay, I really felt good because I had finally arrived at the start of my Amazing Adventure and I was beginning my tough special long distance cycle journey of 185 miles from Barra to Butt at last. After all the planning and thinking and packing I had finally arrived and I felt great. So I did what I thought every Adventurer does at the start of their expeditions, brimming with confidence, I stopped and had a banana.
The sun was shining brightly and the sky was opaline blue. Barra was looking stunning and I sat and took it all in for a little while. It felt such an exquisite special moment which I had been waiting for a while to come- just Me, the Bike, the Hebrides.
Barra is really small and it didn't take me long to cycle up the West Coast and across the island to Ardhmor to catch the ferry to Eriskay. In the North west of Barra we spotted a sign for the airport and, with time to kill before the ferry, I decided to check out the facilities there. I cycled the mile long road into the Airport that ran along the side of the most beautiful white sandy beach which actually turned out to be the runway. Barra airport is one of few in the world where planes land on the beach so arrivals and departures were subjected to tidal times!We went into the cafe at the airport for something to eat. I use the word cafe here because it was, but at the same time it doubled up as, check-in hall, departure lounge, arrivals hall and observation room! Yes, Barra airport consists of about one room with a desk in one corner and a fridge in the other. I didn't see any sign of security! Perhaps it did happen out of sight but when the plane was about to depart to other shores, a man came into the cafe and shouted, ' Anymore for Glasgow?' and that was it. It rea
lly made me laugh inside thinking about all the issues we have at International airports with check-in and security. How civilised I thought, being able just to turn up, chuck your bag in the trolley and get onto the plane, I'm sure they'd let you take chips on with you if you hadn't finished them before you had to go. You certainly wouldn't get a bottle of spring water confiscated as you do boarding the Shuttle from Edinburgh to London. I can't move on here without saying something about the chips at Barra Airport- they were awesome! Hand cut, deep fried, wonderful. If you do make it to Barra sometime, do go to the airport for a plate of chips!
It was a fabulous, beautiful sailing across the Sound of Barra to the small island of Eriskay where my journey took me along the west shore, over a causeway and onto South Uist. We met some lovely people on the ferry who happened to live very close to me here in Edinburgh. As it turned out we kept bumping into each other all the way up the islands as often is the case on a touring holiday such as this.
It was another steep climb over Eriskay but before I knew it I was at the causeway taking me onto South Uist where I had about 10 miles left to do to take me to our pre-booked accommodation in the village of Daliburgh. I say village using the word loosely. Houses and properties don't seem to be arranged in any particular order up here. Thank goodness it was still light when we arrived or we might never have found the place. This was a phenomenon that I would discover is right throughout the Hebrides that there are no streets, no apparent order to anything. How the post man works out where things have to go I have no idea!
We spent the night in Mrs Mcphee's B&B. We went out to find something to eat but neither of us were that hungry so we ended up sitting in the car, in the dark, by a foggy, misty Lochan having a picnic. We dined on breakfast cereal and snacks. When got back and were asked if we had a nice meal, we just said yes thanks, very nice. For some reason we just felt sheepish that we sat in the dark and had cereal! I hoped it was enough of a meal because I knew I had a slightly more demanding cycling ahead of me in the morning. However, I also knew that, staying in a B&B, I'd have a lovely cooked breakfast with the essential Stornaway Black Pudding that I looked forward to very much.