ACCESSING THE PAST ON ORKNEY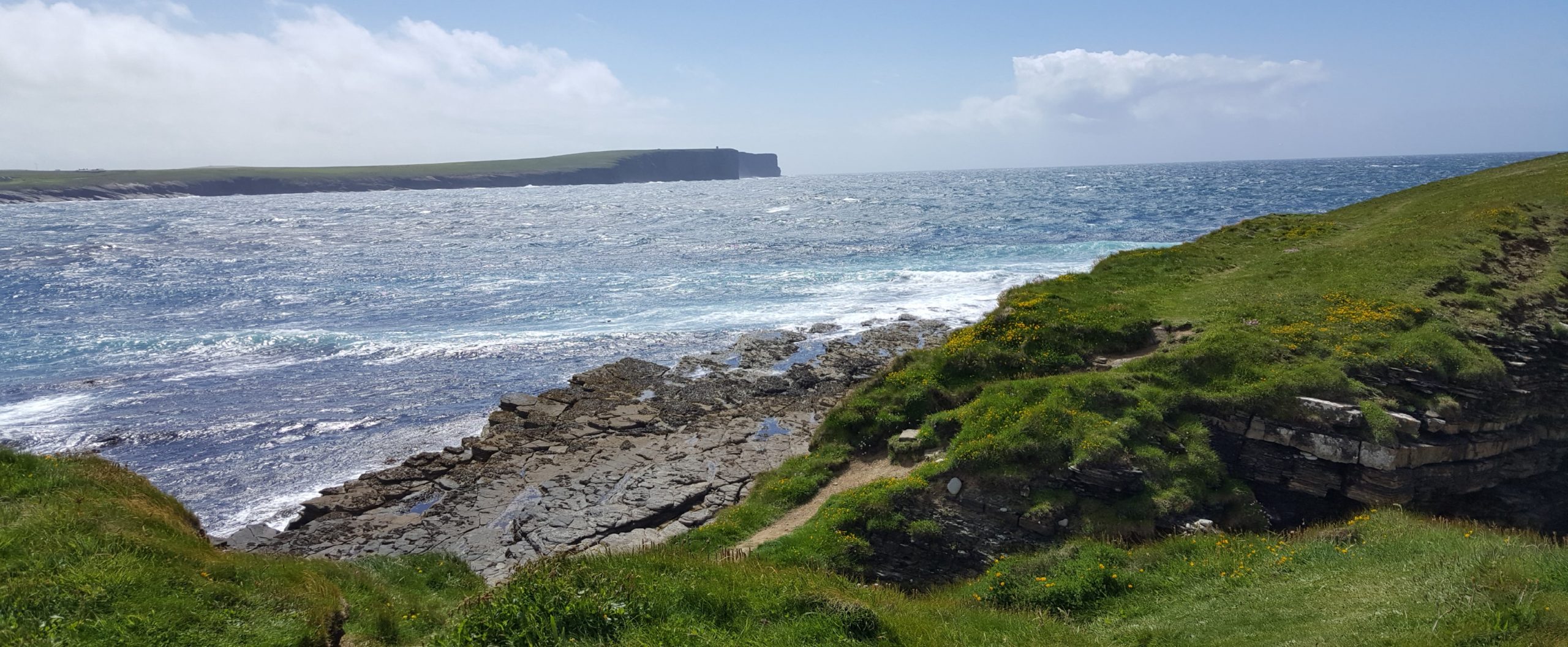 I have been lucky enough to visit Orkney lately and I had a really interesting time. My trip was to carry out detailed research. Funded by the John Muir Trust Des Rubens and Bill Wallace Grant, I went to Orkney to investigate disability access across the archaeological sites. The idea for this investigation came after the discovery that some tour operators specifically say their tours are not suitable for disabled people. I wanted to discover for myself and, thanks to the John Muir Trust Des Rubens and Bill Wallace Grant, that is exactly what I did.
Accessing the Past
Orkney is a wonderful place rich in archaeological sites. There have been many television documentaries and books written about them. Most people who know anything about Orkney have heard of Maes Howe, Scara Brae and the Ring of Brodger. Although these sites are very well known, there are many more sites both on mainland Orkney and the surrounding islands.
Site Management
Historic Scotland are a national agency whose remit is to protect the ancient relics and natural environment of Scotland. Members, like myself, obtain unlimited access to all the ancient sites of castles and monuments. Membership money allows Historic Scotland to protect the sites. They also make the places accessible by providing visitors centres and laying on events.
Being able to access and see for yourself the sites of ancient civilisations is really important for all of us. I feel that it changes outlooks on our lives and what we value about our society. However, these prestigious locations are a lot more difficult for disabled people to see. The preservation is very important, but can we strike a balance between preservation and access for all.
The sites are managed by Historic Scotland and I wanted to see for myself just how disabled people might access them.
On the Ground
Over the course of the week I visited as many of the archaeological sites as possible. It was a truly amazing experience. Below I have given a short description of a few of the sites and commented on the accessibility.
| | | |
| --- | --- | --- |
| Stones of Stenness | Collection of three large standing stones. | Accessible over a grassy field but only a short distance from the roadside. The magnitude of these stones can easily be seen from the road. |
| Barnhouse at Stenness | Remains of 4 or 5 small Barnhouses. | A further walk past Stones of Stenness over grass. Once there, access into the houses is narrow although is possible to have a good over view from the outside edge. |
| Scara Brae | A neolithic village very well preserved, a truly amazing site. | This is the most accessible of all. HS have gone to a lot of trouble to build an accessible walk way. A wheelchair user could get a really good view and experience on this site. |
| Maes Howe | The best preserved burial tomb. | Not accessible. See my notes further on. |
| Ring of Brodger. | The most amazing stone circle | Accessible over a field with grassy covering. Once at the stones a rather narrow and tricky path surrounds it. |
Accessibility
While discussing access to the archaeological sites, it is important first to recognise the importance of maintaining and preserving the integrity of the site. These sites date back 5000 years and really ought to be left exactly how they were found. Many of the sites therefore could not be made accessible without damaging them. Maes Howe for example, as well as the other burial tombs, could not be made accessible. One has crawl into them with a torch and even the most able of us might find this difficult.
Possible Changes
Although it is important to maintain the archaeological sites exactly as they are, this may be an excuse for Historic Scotland to overlook disability. There is an excellent visitor centre at Scara Brae that is fully accessible, and a good path around most of the site. Apart from this, one can't help feeling that disability has been overlooked.
There are numerous sites that could easily be made more accessible for small amounts of money. For example, it would be so easy to create some walkways that would enable a wheelchair user to see The Ring of Brodger, Stones of Stenness or the Broch of Gurness. Gates could be made much wider and ramps could be built at places such as Birsay. All these changes would not in any way destroy the integrity of the site and make them much easier for people to see. This would benefit both disabled people and non disabled. Where sites are completely inaccessible perhaps modern technology could be utilised more to create a better visitor experience for less able people.
I think Historic Scotland need to take a look at all of their key sites and ask themselves what could be done to make them more accessible for all. One fails to see why this has been so badly neglected. It is so important for everyone, able-bodied or not, to be able to have a window into the past. I hope groups might start to put gentle pressure onto Historic Scotland to encourage them to consider increasing accessibility to other important places and not just Skara Brae.