MY EXPERIENCE ON THE CALEDONIA WAY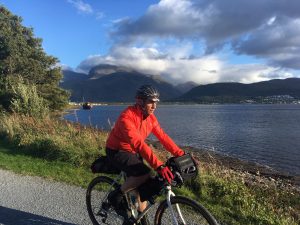 It didn't matter how steep the hill up to Inverness castle was, I was just smiling and feeling such elation that I had made it. Standing on the steps and looking back into the distance, it was hard to believe that I had cycled the 238 miles to get there. Eight days ago we set off from Campbeltown on what was to be my biggest challenge yet, to cycle the length of The Caledonia Way. Supported by Sustrans Scotland, we embarked on a journey that would take us through some of Scotland's most spectacular scenery, up the Great Glen and into Inverness.
Leaving the ferry terminal in Campbeltown felt like quite a moment because so much planning and preparation had gone into the journey. The seeds of doubt in my mind were asking if I could really do this, and would I really make it to Inverness in a weeks time. But, before I knew it we had done 12km and then 20km became 30km and we were well underway. I soon settled into the ride and I was enjoying the rolling roads of Kintyre that took us along some forest lined roads as well as open farmland.
The next three days would take us as far as Taynuilt just short of Oban, with overnight stops in Tarbert and Ardrishaig. Cycling up the Kintyre peninsula was a joy with its mixture of forests and open coastal stretches. The way the light shone across the Kilbrannan Sound to Arran for example was quite majestic. In this section I catch sight of an otter on the shore of Loch Caolisport and an eagle high over Inverliever Forest. The weather during this section was not however in our favour. High winds and rain brought a storm that only added to the challenge and the adventure. Raining or not, I felt so alive and happy to be doing what I loved most, just riding my bike. The only saving grace was that the wind was right on our backs pushing us along and helping us over some of the Argyll hills
More settled weather arrived when we reached Oban which made for very pleasant riding for the next stage of our journey. Segregated cycle paths along with the autumn colours made this particularly flat stage of the journey very enjoyable indeed. I was surprised how little of the route was on main roads, and how much was on 'B' roads or traffic free cycle lanes. Safe paths made it easier to enjoy the stunning surroundings and backdrop of the mountains. This stage of the route struck me as being one of the most accessible to families or for disability cycling. From The Caledonia Way, it wasn't difficult to find smaller routes that would make ideal loops for shorter day trips. This section of the ride was fairly flat so it gave lots of options to less able cyclists.
I particularity enjoyed the final two stages from Fort William to Fort Augustus and onto Inverness. The route took us along the tow path of the Caledonian Canal which, with the autumn colours against the backdrop of the mountains, was quite spectacular. Skies were often clear and crisp making for some wonderful views. The most difficult climb of the route was shortly after we left Fort Augustus. The road climbs very steeply up the east side of Loch Ness, and this was quite challenging. We were soon rewarded however, with spectacular views and a long descent towards Foyers, then a relatively flat road right into Inverness.
I do feel a tremendous sense of achievement to have cycled The Caledonia Way in its entirety. If I hadn't had the offer of support from Sustrans, I wouldn't have attempted it under my own resources. I feel particularity grateful for the opportunity. The experience has changed me. So many adventures or outdoor experiences have a huge influence on people's lives. It has given me so much more confidence in my own ability and given me a thirst to get out, explore, and see what else I can achieve. I was really surprised by my own capabilities.
Although there may be pieces of the route are still to be developed, I was really encouraged by the thought that had gone into accessible cycling. Brand new bridges with all ability access such as that at Soldiers Bridge at Inverlochy, are a great example. While I suspect the numbers of disabled people riding the route in its entity will remain low, parts of The Caledonia Way lend itself nicely to inclusive cycling. The stretch around Appin for instance is also particularity flat and accessible to less able riders.
Having cycled the length of 'The Caledonia Way', I don't think there is any of it that I wouldn't happily go and ride again. I would particularity like to return to Appin, cycle there and maybe take in the island of Lismore. Whatever I do in the future I will do with a sense of confidence that this ride, with the support of Sustrans, has given me.